Job Vacancy at Italian Consulate
An opening has arisen for a new member of staff at the Italian Consulate in Edinburgh. The post - working in the commercial section of the consulate - is open to those aged 18 and over, with at least two years residency in the UK, excellent Italian and English language skills and computer competence. An exam based on oral and written language skills, practical tasks etc will be taken by candidates for the post. Full details of the job and the recruitment details/application form can be found at the following here. Please note that the application date has been extended to 3rd September.
Find more info here.
Barga on the Beeb
On August 21st there will be an episode of "Who do you think you are?" dedicated to actress Tamzin Outhwaite which visits her grandfather's place of birth Barga and also Glasgow. Check out this special episode which will interest all Scots Italians
Villa Latina Book
If you know the area of Villa Latina well or have relatives from the area round Cassino you will be interested in this new book which has finally found a publisher ...
Italy at the Fringe
There is an amazing range of Italian performers and shows at this year's Edinburgh Fringe/Festival. Around 40 Italian companies are presenting shows/concerts/exhibitions/events – twice the normal number. You can check them out here

Remembering War
This month Britain remembers 100 years since the start of the war with Germany which became World War One. At the same time an exhibition has opened which uses the experience of war as its starting point – Winterline is an exhibition of paintings, drawings and prints by Elaine Shemilt
at the Scottish Arts Club at 24 Rutland Square, Edinburgh. It is open to everyone – 02 August – 06 September 2014: Tuesdays - Saturdays, 11am - 5pm.

The exhibition was conceived to record the 70th Anniversary of the Allied 'Italian Campaign' in Italy during winter 1943 and 1944. The significance of this campaign to Scotland is that it occurred in the geographical area of origin of many Italian people who subsequently emigrated to Scotland; the conflict also profoundly affected the lives of Italian people already settled in Scotland as their family members who were called to serve for the British Army found themselves fighting against Italian family members in the exact area of their origins.

Working from the towns of Filignano and Venafro, Shemilt spent three months researching the area where between September 1943 and May 1944 soldiers fought through heavy rain, mud and snow. The zone of conflict lies on the confines of the regions of Molise and Lazio which was demarcated as the Winter Line and the Gustav Line.

The impact of the conflict and civilian evacuations were the abandonment of ancient highways, cultivated land and entire villages which today remain hidden from view amongst dense foliage, populated only by the detritus of hand to hand conflict: ammunition canisters, grenades, belts and buckles lie amongst machine-gun emplacements and trenches now etched into the mountainous landscape as stark evidence of the aggressive occupation and conflict in one of the hardest won and most costly campaigns during WWII; the Allied mortality rate was 1,000 soldiers for each mile gained from German control.
Aldo Faccenda
It was with great sadness that all at ItalianScotland SCIO heard of the death of Aldo Faccenda - CoCAIS (Vice President 2005-2007).
Born: 2nd January 1948
Died: 16th August 2014

One of the Scottish Italian Community's less prominent but most enthusiastic supporters of all things Italian passed away on 16th August 2014. Born near Picinisco (FR) and growing up in Glasgow he was involved for many years with the organisations for Italians in Scotland including, Casa D'Italia, CoCAIS and Circolo Italiano Di Greenock. He will be sadly missed by his family and all who knew him in the Scottish Italian community.
An online memorial service has been set up by his family as many people may be in Italy during the month of august. For messages of condolence, please click here.
Italian Awards
It's that time of year again when the Scottish Italian Awards get underway. The public can vote for their favourite by visiting www.italianawards.co.uk or twitter @italianawards


Voting closes 10th of September and top five in each category with the most votes will make the final.


Final is Sunday 26th of October at the Thistle Hotel Glasgow.
COMITES Elections
The COMITES – Commitato per gli Italiani all'estero is an official body recogniosed by the Italian Government which is established to support the interests of Italian citizens living abroad. The Scottish COMITES has its own website www.comites.org.uk which gives an idea of its role.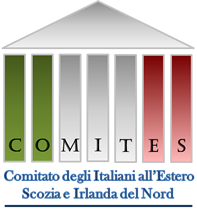 The time has come for elections to this body and a decree of the Italian parliament has been published to this effect. The official announcement follows:
The renewal of the Comites shall take place according to the provisions of Law 286/2003, which provides for the establishment of one Comites "in each consular district where at least 3,000 Italian nationals reside".

The above legislation stipulates that the right to vote be exercised by post, as per Law 286/2003, and that the electoral pack be sent only to those electors meeting the relevant legal requirements and who make a specific request to the relevant consular office.

The date of the elections shall be notified at a later date, and they shall take place in the month December.Please note that the above measure, albeit statutory as of the date published, is subject to parliamentary conversion.

Applications to be included in the electoral list may be sent as of now by post to:
Consolato Generale d'Italia
Elezioni Comites
32 Melville Street, Edinburgh, EH3 7HA
or alternatively:
provided it is accompanied by a copy of the ID of the applicant.
Applications must reach the Consular office at least 50 days prior to the date chosen for the elections.
Please visit www.consedimburgo.esteri.it for further updates
Italian Chapel Theft
Three hand-carved wooden stations of the cross have been stolen from Orkney's famous Italian Chapel.The chapel was built during World War Two by Italian prisoners-of-war and has since become a tourist attraction.

Fourteen stations were gifted by the chapel's creator Domenico Chiocchetti and his wife in 1964.

The Secretary of the Italian Chapel Preservation Society, John Muir, said the theft of the 'Stations of the Cross' plaques was "devastating". The plaques are approximately 6in by 8in with a small wooden cross on the top edge.
New website
Look at this fantastic new website full of all the goodies you could ever imagine from the Valcomino Picinisco area ...not only all the cheeses and liqueurs you could dream of, but also information on where to stay.
Bear Grylls seeks Italian participants for new series
Do you want to take part in a new TV series with Bear Grylls & overcome a personal obstacle in your life?
Television production company betty (London, England) are currently making a brand new series for Discovery International with world-famous adventurer Bear Grylls. They are carrying out a worldwide search for people who want to overcome a personal challenge or obstacle in this exciting, once in a lifetime opportunity.
The sensitive series sees Bear Grylls travel to a wild and remote location with a travel companion, who has a personal challenge they wish to overcome. These companions are not survivalists themselves, but rather real people who have stories to share and the urge to overcome their individual hurdles, to regain confidence within themselves.
They are looking for people who have been struggling with a fear or phobia (whether this is a fear of heights, insects, water, darkness or claustrophobia etc.), or someone who is generally unhappy with their lifestyle and in desperate need of a change – be it obsessive behaviours or unusual eating habits (e.g. OCD, picky eating) – they would love to hear from people who are willing to face their fears and issues head on to make a change. Each episode will aim to achieve the impossible and hopefully change someone's life for the better through determination and courage.
They are looking for people worldwide but are currently interesting in hearing from Italians aged 18 and above, with a good level of English who fit the above criteria.
The team are working with a full support network on location and a medical professional and psychologist will also be on hand throughout filming. Duty of care to contributors is of utmost importance.
If you are held back by a fear, phobia or personal challenge and want to find out more about this exciting opportunity, please call or email the team:
bear@betty.co.uk | 0207 290 0204
Italian Flight Guide
Barrhead Travel

Glasgow to Venice - each Saturday morning until October 11

Easyjet

Edinburgh to Milan Malpensa - flights from 30 Jan to 25 Oct

Edinburgh to Naples - flights from 23 April to 19 Oct

Ryanair

Glasgow Prestwick to Pisa - flights from 4 June to 27 Sept

Glasgow Prestwick to Rome (Ciampino) - flights from 1 April to 25 October

Edinburgh to Bologna - flights from 1 April to 27 Sept.

Edinburgh to Pisa - flights from 1 April to 25 Oct

Edinburgh to Rome (Ciampino) - flights from 31 Jan to 31 Oct

Jet 2

Glasgow - Rome (Fiumicino) - flights from 3 April to 26 Oct

Edinburgh to Venice (Marco Polo) - flights from 4 April to 27 Oct

Edinburgh to Verona - flights from 14 May to 1 Oct

Thomson flights (Charter)

Glasgow to Naples - flights (on Fridays) from 4 April to 24 October
ItalianScotland on Social media
In the era of Facebook and Twitter it makes sense to keep in touch via
social media. Our Facebook page is updated almost daily with news and events or interest to members and friends of the Scots Italian Community.
Just look up ItalianScotland on Facebook and click "like".
We are now into the third year of our Facebook presence. It has more than 1300 signed up followers and reaches a different audience to the newsletter recipients - much younger, less likely to be involved in formal associations. Posts can reach 6000 people in less than 24 hours! Our Facebook page engagement has shown a more than 200 per cent increase on last year, which shows the importance of us using social media to communicate.
Remember to follow us also on Twitter at @ItalianScotland.